Filing for Divorce in Brooklyn
Handling Marriage Dissolution Cases in Brooklyn, Manhattan & Queens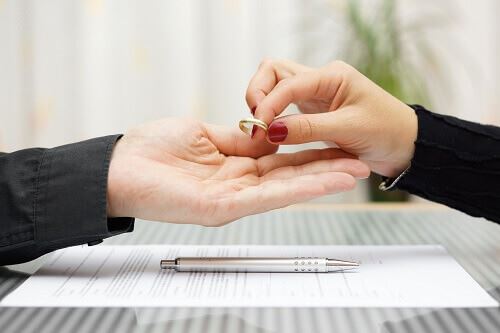 Whether you expect your divorce to proceed smoothly through negotiations or you think things may be aggressively contested, it is important to be represented by an experienced attorney who will take the time to understand your situation and develop a legal strategy that accomplishes your key objectives.
At Arnel Law Firm, our Brooklyn divorce attorneys have more than 40 years of cumulative experience handling divorce and all the legal issues that come with it. If you select us to represent you, we become committed to putting you in the best possible position to begin your post-divorce life.
That means protecting your interests and fighting for your rights in terms of:
Whether you are seeking a divorce involving significant assets or require a same-sex divorce, we help with a wide range of divorce issues.
Call us at 718-550-3024 to get started on your case with a free consultation with a professional divorce lawyer in Brooklyn.
New York Divorce Laws
New York recognizes no-fault divorces if you and your spouse have been separated for at least one year and there has been an "irretrievable breakdown of the marriage" for minimum of six months. Additionally, couples can also file for divorce after they enter into a separation agreement (or file for a court ordered-judicial separation) and live apart for at least one year.
On the other hand, you or your spouse can file for divorce based on fault. Common fault-based grounds include adultery, cruelty (e.g., physical or mental abuse), imprisonment for a minimum of three years, and abandonment for at least one year.
In order to get a divorce in New York, one of the following situations must apply:
You or your spouse has lived in New York for at least two years leading up to the date you file for divorce

You and your spouse lived in the state as a married couple and either spouse has been a resident for at least one year

You and your spouse got married in the state and one spouse has been a resident for at least one year

When it comes to a fault-based divorce, the ground(s) for your divorce arose in New York and either spouse has lived in the state for at least one year
Contested vs. Uncontested Divorce in New York State
While a couple may file for a divorce due to irreconcilable differences and do not need to blame either spouse for ending the marriage, that does not mean the divorce can become a heated legal dispute. There are two main types of divorce in New York: contested divorce and uncontested divorce.
A contested divorce means that the spouses disagree on one or more terms of the divorce (e.g., property division, spousal support, child custody, child support, debt allocation, etc.). While a couple involved in contested divorce can resolve their differences through mediation or negotiations to reach a final agreement, if they are unable to find common ground, then any contested divorce-related issues will be decided by a judge in Family Court.
On the other hand, if a couple comes to an agreement on all significant issues, this is considered an uncontested divorce. This type of divorce is much faster and less expensive than a contested divorce, mainly because the spouses avoid court litigation. While an uncontested divorce can take a few months to compete, a contested divorce can take up to a year or more to finalize and cost tens of thousands of dollars.
Whether you are going to be involved in a contested or uncontested divorce, you need an experience divorce attorney in Brooklyn to fill out all the necessary paperwork, meet all deadlines, guide you through the legal process, and help you and your spouse resolve any differences or represent you in the courtroom. At Arnel Law Firm, we provide our clients with compassionate and personalized legal representation in order to help them obtain the most favorable outcome in their divorce proceedings and help them start a new chapter in their lives.
Do I Need an Attorney to Get Divorced?
It is always a good idea to consult with a lawyer about a major event in your life, such as a divorce. An experienced lawyer will offer you advice, protect your rights, and ensure that your children are kept safe. He/she will also be able to update you on how the law has changed in your state and what you need to know about filing for divorce in New York State.
What Are the Legal Grounds for Divorce in New York?
There are seven legal grounds for obtain a divorce in New York State:
Adultery
Imprisonment
Abandonment
Cruel mistreatment
Irretrievable breakdown of the relationship (for at least 6 months)
Legal separation (for at least 1 year)
Judgement of separation
Personalized Strategies for Simple & Complex Cases
At Arnel Law Firm, our legal team is fully capable of handling complex divorces involving substantial assets or family businesses. We take the time to fully understand your situation and talk through your objectives before creating a legal strategy.
If you and your spouse are aiming for an amicable split, we will lead you through the collaborative divorce process to resolve matters efficiently and cost-effectively, reducing the stress for all involved.
If you expect more of a contested divorce, we will stand by you throughout the process and ensure that your rights are protected. Our experienced guidance will help you distinguish between the issues that are worth standing your ground on and those in which it makes more sense to reach a compromise.
Equally Effective in Divorce Negotiation & Trials
An experienced trial lawyer is an effective negotiator. If a lawyer is afraid of going into the courtroom, that lawyer will have no leverage in negotiations. We are at home in the courtroom and arguing at trial, so we can negotiate from a position of strength. When we face an opponent and determine that he or she will not be able to match us in trial, we know that we have the upper hand. Having handled these cases day in and day out, taking them to trial and winning, we also know that no opponent will get the upper hand over us.
In negotiation, we assist you in reaching as many agreements as possible with your spouse. By doing so, both of you retain optimum control over the structure of your post-divorce life rather than leave these critical decisions to a judge who does not know you or your children.
Same-Sex Divorce Lawyer in Brooklyn
When New York lawmakers passed the Marriage Equality Act in June 2011 allowing same-sex couples to legally marry, it opened up an entirely new area of family law. Our lawyers also handle same-sex divorce cases. We welcome the opportunity to answer your questions and assess your case during a free consultation.
Contact us today to get started on your divorce case in Brooklyn. We also represent clients in Manhattan and Queens.
Personalized solutions for you.

Every case has its own unique circumstances that requires a methodical, thoughtful plan.

Protect your assets and future.

Safeguarding your best interests is always at the forefront of our approach to your case.

Experience makes the difference.

No matter how simple or complex your case, experience is essential in obtaining results.